Have you ever driven at night and looked at the street lights above you just to be distracted by long streaks of glare? Have you ever posed for a picture only to find out your lenses reflected the light from the room or even the camera flash? If so, you're not alone.
Glare and reflected light are common issues many glasses wearers deal with, but there is a way you can help minimize these experiences altogether, and it's called anti-reflective coatings.
Are anti-reflective coatings right for you? Let's look at how anti-reflective coatings work and the potential issues they can help address. If you need a closer look at your vision and eye health needs, please don't hesitate to contact Los Angeles EyeCare Optometry Group today to book an appointment.
What Are Anti-Reflective Coatings?
Anti-reflective coatings help reduce the amount of light that reflects from your lenses, which ultimately can support your visual acuity and help keep your lenses looking clear in pictures and online meetings.
It's important not to confuse anti-reflective coatings with polarized coatings. Polarized coatings help block a certain amount of light from passing through your lenses and are often recommended while enjoying outdoor activities like boating or golfing. However, polarized lenses might not be the best choice for managing light and glare from digital devices or while driving at night.
How Do They Work?
Anti-reflective and anti-glare coatings were initially created to help reduce reflected light and allow more light to pass through the lens of telescopes and microscopes, providing a clearer image. The eye care industry has since adopted anti-reflective coatings to help reduce reflected light in eyeglasses and improve visual acuity for wearers.
Anti-reflective coatings use multiple layers of metal oxides to help reduce how much light reflects from your lens.
Traditional eyeglass lenses can reflect up to 8% of light without an anti-reflective coating. In comparison, high-index lenses can reflect up to 12% of light, ultimately affecting the quality of your vision.
How are Anti-Reflective Coatings Applied?
The first step in the anti-reflective coating process is to ensure the lenses are as clean as possible. The lenses are cleaned in a lab where they will undergo a series of special washes and an air-drying and heating process. Any dust, dirt, or hairs on the lenses can cause a defective lens, and the whole process will need to start over from the beginning.
After the lenses are cleaned, they're loaded into metal racks and placed into a coating chamber. Inside the coating chamber, a device focuses a beam of electrons on metal oxides that vaporize and, in turn, coat the lenses.
Some lenses are manufactured with an anti-reflective coating, but you can also add a coating after purchasing your lenses for an additional price. Please speak with our team about how we can help apply anti-reflective coatings to your favorite pair of lenses today.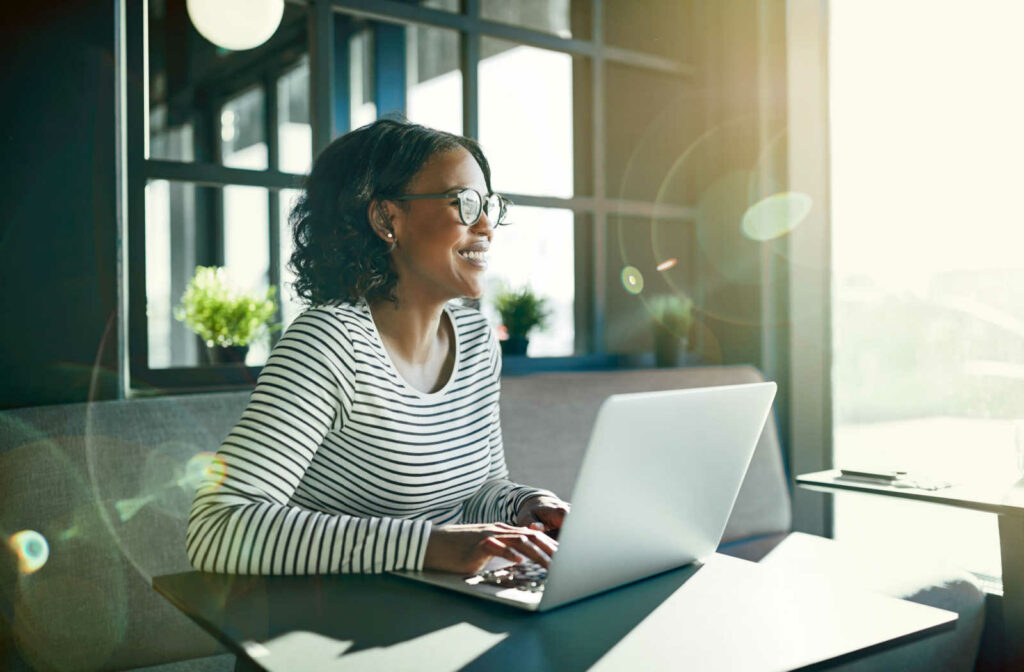 When Are Anti-Reflective Coatings Right For Me?
Now that we know what anti-reflective coatings are and how they work, let's look at why you might need them.
The 2 most common reasons people express interest in anti-reflective coatings are reduced glare from light sources and clearer-looking lenses in bright settings. But why should you be concerned about these issues? For starters, glare can contribute to:
Reflections from your lenses can also lead to annoying cosmetic difficulties, like hiding your eyes while taking your picture. While this is not a huge concern for most people, it can be frustrating for those who often have their picture taken for work or other projects they might be working on.
Cleaning Anti-Reflective Coated Lenses
Cleaning your lenses is essential to maintaining their durability and clarity, especially if they have an anti-reflective coating. Cleaning your lenses improperly could damage or even wipe away the coating they may have.
To clean your lenses properly, make sure you follow these simple rules:
Always use your lens solution to clean your lenses.
Always make sure your lens solution is safe for anti-reflective coatings.
Make sure your lenses are free of dust and debris before cleaning them, as these can cause scratches.
Use a microfiber cloth for cleaning. A clean, lint-free towel can also be used to clean your lenses, but microfiber cloths may provide better results.
If you aren't sure how to properly clean your lenses, our team can help by recommending various products and strategies when you visit us. If your lenses are scratched or damaged, we can help you replace your lenses so you can still enjoy your favorite pair of frames.
Please visit our optical team if you're wondering how anti-reflective coatings could help keep your vision clear and comfortable. Better yet, book an eye exam at Los Angeles EyeCare Optometry Group to get a complete view of your eye health and how you can support your sight today.