Find Relief from Eye Irritation
When red, burning eyes are causing you discomfort, you might be suffering dry eye disease. Dry eyes are common, and many people experience their unpleasant sensations at some point in their lives.
If you're using bottle after bottle of artificial tears trying to soothe your symptoms, it's time to find lasting relief. We're ready to personalize a treatment right for your needs and lifestyle. All you have to do is get in touch with us today.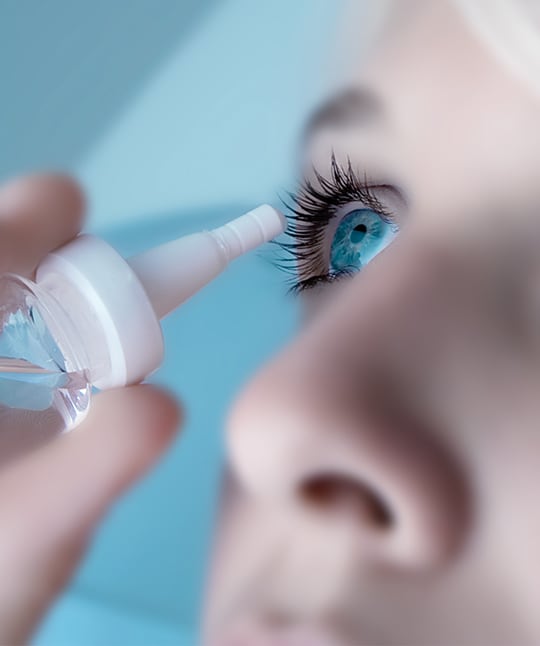 How Does Dry Eye Develop?
Almost 5 million Americans over the age of 50 suffer from dry eye disease, which affects your tear film.
The tear film is made up of 3 distinct layers:
The mucus layer keeps the tear in contact with the eye
The water layer keeps the eye hydrated
The oil layer keeps the water from evaporating
If any of the 3 layers are unstable, you may have dry eye. It's usually a result of one of 2 underlying issues—aqueous deficiency or evaporative dry eye.
Evaporative Dry Eye & Aqueous Tear Deficiency
Aqueous deficiency is characterized by lower-than-average tear production. This type of dry eye disease accounts for only about 1 in 10 dry eye disease cases.
Evaporative dry eye is much more common and affects your eye's oil production that supports your tear film.
If your dry eye disease is evaporative, you may also have meibomian gland dysfunction (MGD). The meibomian glands are tiny glands along the edges of the eyelids responsible for producing oil. This oil is a critical component of your tear film and keeps your tears from evaporating too quickly.
When the glands are blocked, they can't secrete oil, meaning your tears might dry up before they can fully moisturize your eye.
Treatment Methods for Dry Eye Disease
There are many ways to treat dry eye disease. At Los Angeles EyeCare Optometry Group, we'll evaluate your specific situation and recommend a course of action.
We're proud to offer several different strategies, and we can personalize your treatment based on your symptoms. We may recommend several appointments to help you achieve the most comfortable vision possible.
Eye Drops
Eye drops can help stabilize your tear film and provide relief.
However, please speak to our team before purchasing any over-the-counter products. We can help determine which products may be most suitable for your eyes.
Lifestyle Changes
Small lifestyle changes could help you manage various dry eye symptoms. Some of these changes can include:
Using a humidifier
Avoiding wind, fans, and registers
Taking regular breaks from visually-demanding tasks
Dietary Changes
Some studies have shown that adding omega-3 fatty acids to your diet could help stimulate meibomian glands and help them produce oils.
With enough time, these could help alleviate dry eye symptoms.
Where to Find Us
Our practice is located in downtown Los Angeles in Little Tokyo, right across the street from Japanese Village Plaza.
We validate and pay for parking during your visit.

Our Address
334-B E. 2nd St

Los Angeles

,

CA

90012
Our Hours
Monday

:

7:00 AM

–

4:00 PM

Tuesday

:

7:00 AM

–

4:00 PM

Wednesday

:

Closed

Thursday

:

7:00 AM

–

4:00 PM

Friday

:

7:00 AM

–

4:00 PM

Saturday

:

8:00 AM

–

1:00 PM

Sunday

:

Closed