Seeing Is Succeeding
Little eyes need to be looked at too! Setting kids up for success begins with making sure they can see the world around them.
Vision screenings, like ones performed in many schools, simply aren't enough to detect vision problems. While we do test your child's visual acuity, a comprehensive eye exam is necessary to ensure their ocular health.
Good vision is essential to academic achievement and athletic performance. Make sure your child is headed in the right direction.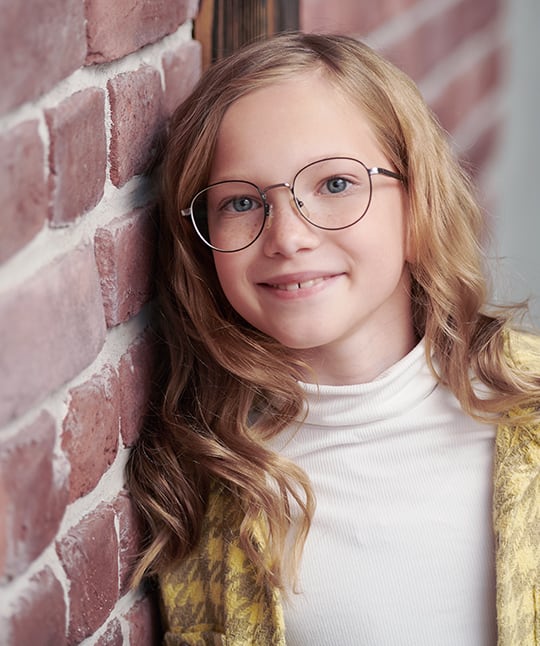 On The Lookout for Learning Problems
Undiagnosed vision problems in children can lead to trouble in school, development problems, and poor social skills. Children who have vision problems are sometimes misdiagnosed with learning or behavioral problems like ADHD.
Regular comprehensive eye exams can help your child avoid learning difficulties. Children should have well-developed visual skills by the time they attend school. Seeing well at a range of distances, following words along a page, and throwing a ball around the playground are all vision-related activities.

If your child is struggling academically, sometimes all it takes to get back on track is a pair of glasses or vision therapy.
All Eyes on Vision Conditions
During your child's eye exam, we'll look for a range of vision conditions and provide personalized solutions for achieving clear sight.
We can help them in many different ways, but some of the most tried-and-true methods are corrective lenses paired with a fun, fresh, stylish frame. We'll be happy to walk your child through our dazzling selection of eyewear choices and find a pair that suits their needs and lifestyle!
Strabismus (Crossed Eyes)
Strabismus, also known as crossed eyes, is a condition children can develop between the ages of 3 and 5. The condition affects your child's eye alignment, and could lead to vision problems as they grow older.
This condition won't resolve on its own. Failure to treat strabismus may cause it to become worse.
Amblyopia (Lazy Eye)
Amblyopia, also known as lazy eye, is an eye condition that usually develops before age 6. Your child may develop amblyopia if they have different refractive errors in both eyes, causing one to drift or turn away from its proper position.
This condition is a leading cause of decreased vision in children, but isn't always obvious. Only a comprehensive eye exam can detect the condition if it isn't immediately visible.
Your Child Deserves To Enjoy Their Sight
The importance of an eye exam can never be overstated, especially for children. Help your child find new ways to enjoy their sight by booking them for an appointment with Los Angeles EyeCare Optometry Group today.
Where to Find Us
Our practice is located in downtown Los Angeles in Little Tokyo, right across the street from Japanese Village Plaza.
We validate and pay for parking during your visit.

Our Address
334-B E. 2nd St

Los Angeles

,

CA

90012
Our Hours
Monday

:

7:00 AM

–

4:00 PM

Tuesday

:

7:00 AM

–

4:00 PM

Wednesday

:

Closed

Thursday

:

7:00 AM

–

4:00 PM

Friday

:

7:00 AM

–

4:00 PM

Saturday

:

8:00 AM

–

1:00 PM

Sunday

:

Closed